Phillro Industries are an authorised Festool dealer specialising in the paint and plaster Festool range. We stock the Festool range of sanders and dust extractors to suit all jobs. Festool Bluetooth range of sanders and cordless sanders are very popular with painters and Serious DIY users. When it comes to abrasives Phillro stock all the popular sizes of Festool Sand paper including 90mm 125mm 150mm and 225mm. These abrasives will complement your Rotex, ETS ETSC RTS 400 DTS 400 and the cordless range also. Please contact Phillro for more information or for a Festool product demonstration.

About Festool
Phillro share the Festool passion!! Our drive for the best quality power tools has continued for more than 90 years. We share this fascination with our users and fans. Our products make life easier for professional tradespeople and help them to achieve perfect results faster. We always think systematically, right down to the finest detail. Over 350 patents and 80 awards, for both the products and company and above all our satisfied customers are testament to our innovative success.
Innovation
Innovation has been the foundation of Festool since its inception. In 1929, the company introduced the first portable chain saw, which brought the mill to the forest and transformed the logging industry. We may have changed our name a few times over the years, but that unyielding commitment to quality, precision and exceptional customer service have remained the same.
Festool designs tools that change the way people work. Saving you time, improving quality and enhancing safety.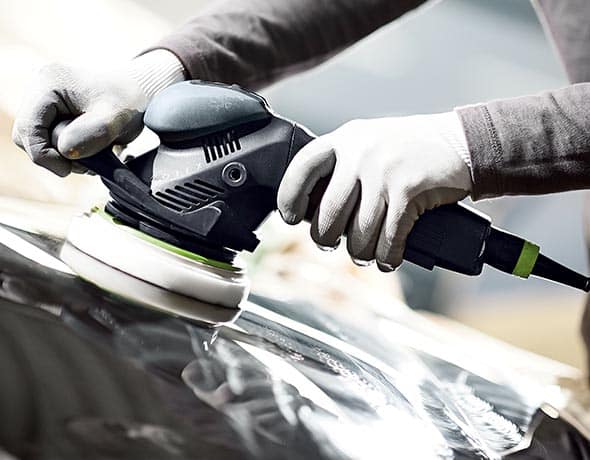 Sanders
You can rely on Festool sanders for excellent finishes and top class results. Our range of sanders include random orbital geared sanders, random orbital sanders, orbital sheet sanders, inline sanders, drywall sanders, belt sanders, rotary sanders, and air sanders.
Most of our compact sanders feature a Soft Grip material, which improves your grip on the machine and makes it easier to handle, increasing comfort and reducing fatigue. Festool also offers a complete system including sanding pads and abrasives. The Jetstream principle ensures greater dust removal, cooler pad temperatures, and longer abrasive life.
Why not book a free demo today to see the quality difference for yourself. Contact Phillro for more information.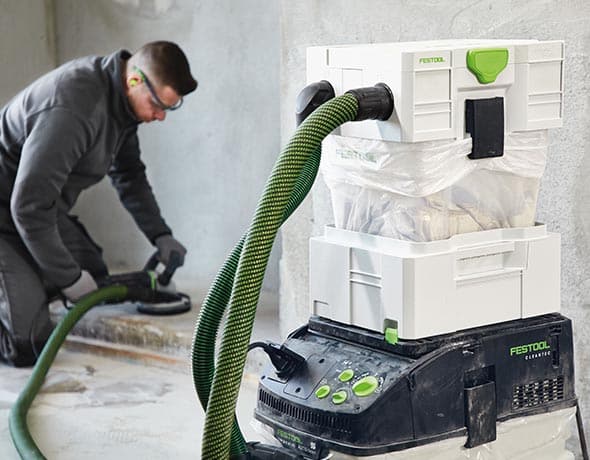 Dust Extractors
Prolonged exposure to hazardous dust in the workplace can lead to life threatening illnesses such as Silicosis and lung cancer.
Our Festool dust extraction systems are designed for use with various types of dust, including Dust Class L (low risk, largest particles), Dust Class M (medium risk, small particles), and Dust Class H (high risk, microscopic particles). Festool dust extractors operate at an efficiency of 99% and more, and are compatible with various types of filters and bags.
Some models, including the CT 15l HEPA Class Dust Extractor, come standard with the HEPA filter for enhanced filtration, and has touch control for intuitive dust extractor operation.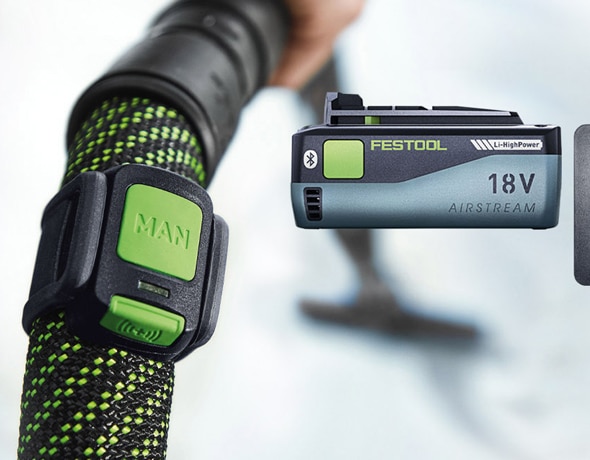 Bluetooth® convenience
Festool tools make work easy. The innovative Bluetooth® system makes it easier again!
Our Bluetooth® batteries offer the unique feature of 'following the tool', so you pair the battery and extractor once and then can move the battery between tools without needing to re-connect.